Hello, this is Catherine-Lune Grayson at the International Committee of the Red Cross (ICRC) and today I want to talk about the vulnerabilities of people living in wars in the face of growing climate variability and extremes.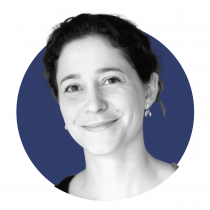 Catherine-Lune Grayson, Geneva
19.09.2020
---
'People in conflict zones are among the most neglected by climate action. We must reverse this trend.'
---
Malian repatriated refugees move around the village of Koygouma where the wind quickly turns into a sand storm (2019) Nicolas Remene / EPA/ Keystone
People living in wars are disproportionately impacted by the consequences of climate change. Of the 20 countries considered the most vulnerable and least ready to adapt to climate change by the ND-Gain Index, 12 are in a situation of armed conflict. This does not point to a direct correlation between climate change and conflict. Rather, this vulnerability stems from the limited adaptive capacity of societies enduring conflict.
Why? Because in addition to causing deaths and injuries, conflicts profoundly disrupt the social, political and economic foundations of societies. They weaken institutions and erode development. They create new vulnerabilities and increase existing ones. All this dents people's capacity to cope with growing climate variability and extremes.
For over a year, we conducted research to better understand how climate and environment-related risks materialise in the lives of the communities we work with and reflected on ways to better support them. This is intrinsic to ICRC's bid to ensure its response factors in the multiplicity of challenges faced by people in conflict zones.
In short, combined climate risks and conflict disrupt all spheres of people's lives, from their safety to their health, to their food, water, and economic security. Effects can also be far-reaching. Along with other megatrends, such as demographic growth or rapid urbanisation, they can shape migration or access to resources on a continental scale.
In northern Mali, we saw how the coping mechanisms of herders during a bad season are curtailed by conflict, as insecurity prevents them from traveling longer distances with their livestock to search for grazing land and water. In the Central African Republic, people asked for help in managing tensions arising from changes in the seasonal movements of herders and their livestock that are, in part, caused by the situation in the Sahel, where environmental degradation, climate risks, and insecurity has pushed pastoralists towards greener and safer areas. They also asked for support to recover from floods and chart changes in agricultural calendars that are no longer reliable. In southern Iraq, problems related to water quality and scarcity were further exacerbated by the limited capacity of institutions to maintain water-related infrastructure and negotiate water-sharing with neighbouring countries.
People in wars are not only at the forefront of climate change, they are also among the most neglected by climate action. We must reverse this trend.
Major global efforts are essential to limit climate change and avoid the most disastrous consequences for people and their environment. But such efforts will only limit, not halt, the climate crisis. We therefore need to find ways to help people cope and adapt.
To state the obvious, we must fine tune our understanding of short and longer-term risks and reinforce our capacity to develop programmes addressing them, learning from people themselves, the experience of others, and science and technology. We must also join forces, across the humanitarian sector and beyond, as no single organisation can address these challenges alone. Collectively, we need to focus on limiting people's exposure by reducing risks and strengthening their resilience to shocks. Once people, systems and their environment have experienced major losses, recovery is harder. And this is particularly true in times of conflict. This calls for investing in disaster prevention and early warning systems, ensuring access to hazard-resilient essential services and helping people secure livelihoods and shelters that stand in the face of climate risks – and it also calls for improving the implementation of IHL rules protecting the natural environment during armed conflict, as greater respect for these rules can limit environmental degradation and in doing so, reduce the vulnerability to climate change of communities. Finally, we need to mobilise those who are best placed to ensure that climate action and finance reach communities enduring conflict – from State governments to local authorities, international financial institutions, and the private sector.
The challenges related to working in places affected by conflicts are no excuse for inaction.
Catherine-Lune Grayson is a policy adviser at International Committee of the Red Cross (ICRC), where she focuses on the experience of populations affected by armed conflict and violence and humanitarian practices, notably in the context of migration, internal displacement, and the climate crisis.
---
Anticipatory reads by GESDA
---
An artificial intelligence robot checks passengers' body temperature for signs of the coronavirus in South Korea. Photo: EPA/Yonhap South Korea
Just like physics particles, reports sometimes oddly collide. This week, the European Consumer Organisation (BEUC) revealed that, according to a large survey, "less than 20 per cent of Europeans believe that current laws 'efficiently regulate' artificial intelligence (AI), and 56 per cent have low trust in authorities to exert effective control over the technology" (see below). "When a consumer believes they have been harmed because of AI-based products or services, they are not only unable to identify who's responsible but also feel that they can't rely on authorities to protect them," explains BEUC's deputy director general Ursula Pachl.

But as management consulting firm Boston Consulting Group recently said, the time has come for 'AI-powered governments'! Especially amidst the Covid-19 pandemic, which is the time when "government professionals should "engage with the populations they serve, to support the use of AI and other technology to power change".

This task, if validated, is as crucial as it is immense. But only it will allow an update of the existing legislation to make the most of the assumptive power of an AI help. Even more as AI ethics groups seem to repeat one of society's classic mistakes: they fail to account for the cultural and regional contexts in which AI operates, as underlines the MIT TechReview.

- Olivier Dessibourg, GESDA
Major survey highlights Europeans' fears over AI. The report by the European Consumer Organisation revealed that most people don't trust the technology and feel that current regulations do not protect them from the harms it can cause.
Global Government Forum (EN)
Synthetic biologists have created a slow-growing version of the coronavirus to give as a vaccine. A few drops of live vaccines on a sugar cube defeated smallpox and polio in the 1950s. One company claims a weakened coronavirus could do the same for Covid-19, this time in the form of inexpensive nose drops.
MIT Technology Review (EN)
Trials begin in France for a new weapon against Parkinson's light. Patients report benefits of the use of this technology, but how near-infrared protects brain cells is unclear, and some scientists are skeptical, although the study is an intriguing area of pursuit.
Science (EN)
Quantum for all. As IBM promises a 1000-qubit quantum computer – a milestone – by 2023, propelling the development of quantum technologies will require widespread literacy about quantum concepts.
Physics (EN)
Doctors are preparing to implant the world's first human bionic eye. The device is essentially the guts of a smartphone combined with brain-implanted microelectrodes.
Futurism (EN)
Microsoft had the crazy idea to put servers under water - and it totally worked. The company has reported that its latest experiment was a success, resulting in potentially more reliable and energy-efficient computer centers.
Singularity Hub (EN)
This selection is proposed by the Geneva Science and Diplomacy Anticipator GESDA, working on anticipating cutting-edge science and technological advances to develop innovative and inclusive solutions for the benefit of the planet and its inhabitants.
---