Good morning, this is Bruno, bringing you the climate news for Geneva Solutions, just as the "last chance" Climate Ambition summit, marking the fifth anniversary of the Paris Agreement, is about to gather tomorrow.
We talk to François Gemenne, a lead author at the IPCC, about whether the targets can be achieved. We also listen to the call of a young Swiss student disappointed by her own country's lack of ambition.
Meanwhile UNEP measures what needs to be done to bridge the emissions gap, and International Mountain Day reminds us why resilience will soon be worth more than snow.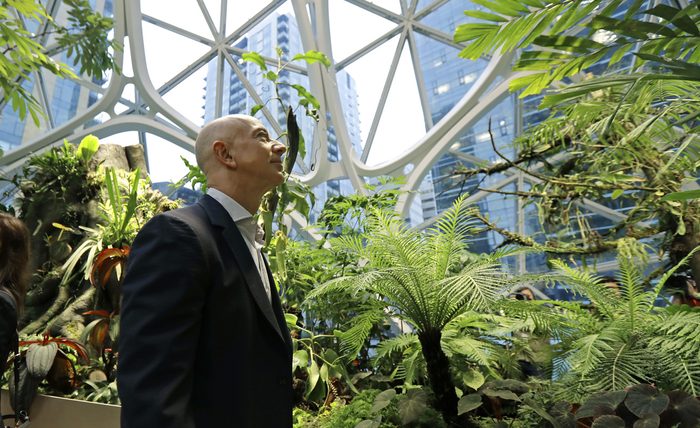 Jeff Bezos at one of the conservatories in Amazon headquarters in Seattle. (Keystone/Ted S. Warren)
Amazon's climate pledge has some powerful new recruits. Thirteen more companies, including Microsoft, Brooks Running and Unilever, are joining the initiative and committing to carbon neutrality by 2040, 10 years ahead of the Paris deal. This brings the club to 31 members. While CEO Jeff Bezos has said that this is 'an important signal to the market', some critics remain skeptical of Amazon's commitments.
The Seattle Times (EN)
Bridging the existential emissions gap. With 126 countries now committing to net zero carbon neutrality by 2050, the planetary ship may be able to change its course "just before midnight". Because until now, political declarations have hardly had any impact on the cruise direction towards the big iceberg.
Geneva Solutions (EN)
Extinction Rebellion protest outside the health deparment in Melbourne. (Keystone/Erik Anderson)
'Covid today, climate tomorrow'. White sheet covered bodies blocked the entrance of the department of health in Melbourne, Australia on Thursday as Extinction Rebellion and health professionals staged a morgue-style 'die-in' to bring awareness to the climate emergency. Several members glued their hands to the building as part of the protest and were later arrested. The activist group, which promotes non-violent civil disobedience to push for climate action, is known for its theatrical methods.
GS news is a new media project covering the world of international cooperation and development. Don't hesitate to forward our newsletter!
Have a good day!

Avenue du Bouchet 2
1209 Genève
Suisse