Good morning, it's Kasmira, and as plans for Geneva's flagship sustainable finance summit later this year get underway, we spoke to its president, Patrick Odier, about what's in store.
Plus, the head of Geneva's Business and Human Rights Center, Dorothée Baumann-Pauly, explains why it's time the social aspect of environmental, social, governance (ESG) is given more attention.
And on the trade front, experts warn that World Trade Organization (WTO) negotiations on a waiver of intellectual property rights for Covid-19 vaccines could take months as stiff opposition remains.
---
Sustainable business & finance news
---
Patrick Odier speaking at the first edition of the Building Bridges summit at the Bâtiment des Forces Motrices, 10 October 2019.
⚖️ Championing the "S" in ESG. On a mission to empower business and finance industry leaders to make practical progress on human rights, Dorothée Baumann-Pauly, director of the Geneva Center for Business and Human Rights discusses why the "S", or the social factor, in ESG investing is often overlooked and how to fix it.
Geneva Solutions (EN)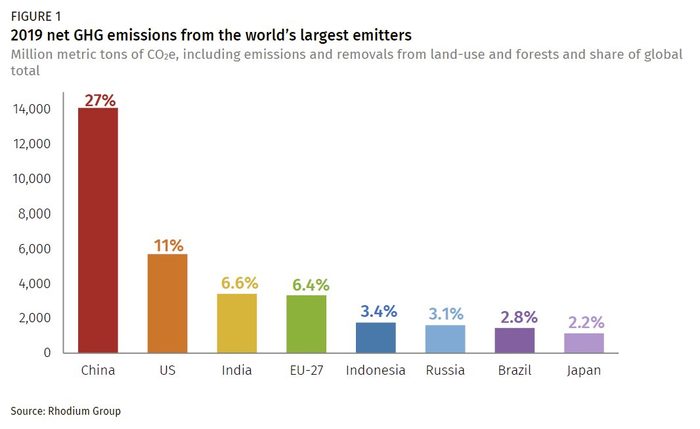 Rhodium Group
China's emissions now exceed all the developed world's combined. China now accounts for more greenhouse gas emissions than all of the world's developed nations combined, according to new research from Rhodium Group. Based on its newly updated estimates for 2019, global emissions reached 52 gigatons of CO2 equivalent in 2019, an 11.4 per cent increase over the past decade. China alone contributed 27 per cent of total global emissions, and the US—the 2nd highest emitter—contributed 11 per cent.
Bloomberg Green (EN)
12 May | Agenda dialogues: global trade outlooks. How can world leaders raise our collective ambition for global trade and investment collaboration in a way that ensures prosperity, equity, and sustainability? The World Economic Forum will explore this questions in this online event.
WEF (EN)
GS news is a new media project covering the world of international cooperation and development. Don't hesitate to forward our newsletter!
Have a good day!

Avenue du Bouchet 2
1209 Genève
Suisse