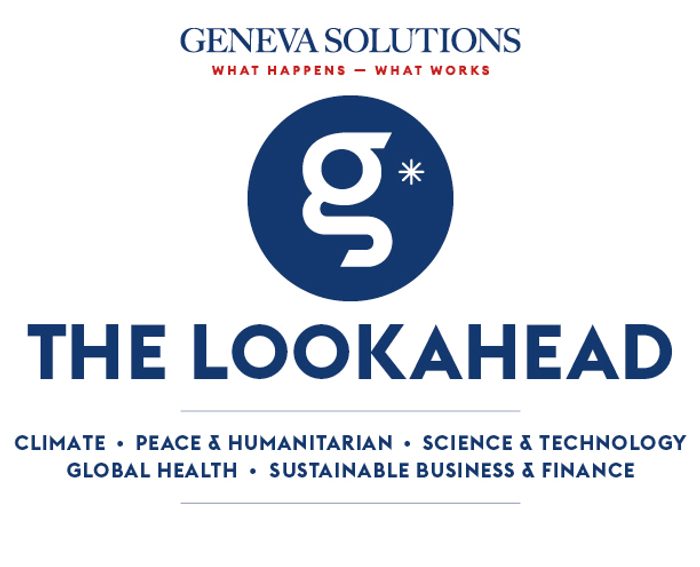 Good morning, this is Kasmira. Omicron, the new virus variant on the block, has officially made its appearance – meaning trade ministers won't – after the WTO announced late Friday that its big ministerial meeting in Geneva has been postponed "indefinitely". Before the change of plans, outcomes for the conference weren't looking hopeful, with many discussions - from waiving vaccine patents to agriculture and ending fisheries subsidies – still far from being wrapped up. The WTO has vowed to continue discussions.
Geneva, however, will be far from quiet this week. Still taking place is the Building Bridges summit, where deputy UN secretary general Amina Mohammed will open the event this morning, speaking alongside Switzerland's top bankers and financiers on how to make their industry more environmentally and socially responsible. This means widening the scope of ambition, two top female chiefs behind the event tell us.
Plus, health officials will focus their attention over the next three days on what a new pandemic treaty or instrument could look like at a WHO special session. There's lots going on - check out below.

Outside the Varembé Conference Centre (CCV), Geneva, where the conference was due to take place. (Credit: Kasmira Jefford)
📜 Pandemic treaty talks call for tough decisions. As pandemic treaty negotiations kick off again at the World Health Organization (WHO) in Geneva this week, countries face a stark choice. Will they decide to move ahead on a new system that vests an independent entity with greater powers to monitor their own national alert and responses – in the name of faster pandemic response for everyone?
Geneva Solutions (EN)
Building Bridges summit, 2018. (Photo: SDG Lab)
🔭 'It's time to widen the lens of sustainable finance'. The UN climate conference in Glasgow brought fresh commitments from financial institutions to align investments with the 2015 Paris agreement on climate change. However, if unaccompanied by investments to improve the lives of people around the world, the effort may be doomed from the start, write Nadia Isler, director of SDG Lab at UN Geneva, and Sandrine Salerno, executive director of Sustainable Finance Geneva, the organiser of Building Bridges, the sustainable finance summit which kicks off in Geneva today.
Geneva Solutions (EN)
​🌏 Afghan climate activist says young people are losing hope. Afghanistan is one of the most vulnerable countries in the world to the impacts of climate change, including the prolonged drought that has pushed millions of Afghans into food insecurity, compounded by the current political turmoil. Although tackling climate change has never been high on the government's agenda, a new generation of more climate-conscious Afghans has taken steps further towards understanding its impact on their country. But since the Taliban takeover, many climate organisations have shut their doors. One 20-year-old climate activist tells us she is losing hope for the future.
Geneva Solutions (EN)
📌 ​​29 November-1 December | Forum on Business and Human Rights. The UN Guiding Principles on Business and Human Rights are turning 10, and this year's annual conference will look back on the progress made and the challenges that remain for governments and companies to prevent and address rights abuses. Held online for Covid reasons, the conference's agenda will be lighter than previous years. Topics ranging from tech regulation to lawsuits against defenders to the binding treaty on big businesses will be debated throughout the week.
OHCHR (EN)
GS news is a new media project covering the world of international cooperation and development. Don't hesitate to forward our newsletter!
Have a good day!

Avenue du Bouchet 2
1209 Genève
Suisse