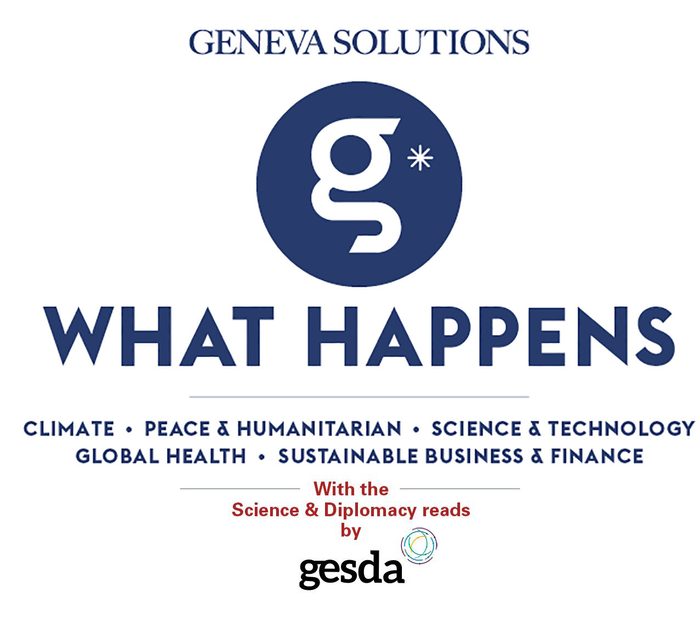 Good morning, Stéphanie here, from Turtle Bay in New York City, where authorities are getting ready to host dozens of world leaders for the high-level week of the General Assembly. After a year-long hiatus, many of us (except New Yorkers, maybe) are looking forward to the excitement around what I like to call the Oscars of international politics, as one can walk in the UN's hallway and run into the likes of Emmanuel Macron or Justin Trudeau (though Macron isn't coming this year).
Next week, leaders such as Britain's Boris Johnson, India's Narendra Modi, Mexico's Andres Manuel Lopez Obrador, Brazil's Jair Bolsonaro and US President Joe Biden will be walking the UN carpet. Switzerland's President Guy Parmelin is also expected to come along with the foreign minister to make some progress on the country's Security Council campaign.
Personally, I'll keep a close eye on El Salvador's president Nayib Bukele's speech to hear what he has to say about his country's adoption of Bitcoin as a reserve currency, so keep an eye out for the story on Geneva Solutions next week.
Every year, while all eyes in New York are focused on drama surrounding world leaders, few focus on Geneva where the Human Rights Council's regular session has kicked off on Monday. If there is little overlap concretely on meetings, themes are undoubtedly common, as both New York and Geneva will use this year's spotlight to shed light on the dire situation in Afghanistan.
The two UN headquarters will also have to grapple with the same conundrum as they decide who gets to speak on behalf of two countries whose governments were deposed in 2021 – Afghanistan and Myanmar. In Myanmar's case, there are competing representatives, and UN member states have to figure out how to best handle the situation.
Ghulam M. Isaczai, Afghan ambassador to the UN in New York, addresses the Security Council on the situation in Afghanistan. Isaczai will remain in post while the UN decides who will represent the country now that the Taliban are in power. (Credit: UN Photo/Evan Schneider)
💡Foreign Policy has an answer on Myanmar. The United States and China have brokered an agreement that will effectively block Myanmar's military rulers from addressing the UN General Assembly next week, according to diplomats, dealing a blow to the junta's quest for international legitimacy after it took power in a coup earlier this year.
Foreign Policy (EN)
⚠️Human Rights Council opens with alarm bells. The UN rights chief Michelle Bachelet didn't waste any time when she kicked off the four-week session on Monday with a sobering message about the looming humanitarian crisis in Afghanistan. The Afghan ambassador to the UN in Geneva, Nasir Ahmad Andisha, responded to Bachelet's remarks by echoing her criticism of the Taliban's disregard for women's rights.
Geneva Solutions (EN)
💸 Money troubles. Back in Geneva, the World Health Organization continues to have never-ending financial woes – a reality that, as the pandemic has shown, has serious health implications for millions of people. Now an independent group has been tasked with finding long-term solutions for the health authority. Geneva Solutions interviewed its chair, Bjorn Kummel.
Geneva Solutions (EN)
South Korean President Moon Jae-in appointed in July the popular K-pop band, BTS, as his special envoy for future generations and culture. The South Korean group will attend the UN General Assembly next week. (Credit: Keystone/EPA/Yonhap South Korea)
🎤BTS back at the UN. The k-pop group always tends to be one of the most-watched events when it decides to visit the UN headquarters. Next Monday BTS will once again attend the UN General Assembly as a special envoy of President Moon Jae-in.
Korea JoonGang Daily (EN)
---
Science & diplomacy reads by GESDA
---
A quantum computer piece (Credit: GESDA)
Quantum technologies are the next big tool. Quantum computers are a new type of computer, making the most of the properties of quantum physics which allow many operations to run in parallel, hence providing a computation power extremely bigger and faster than current processors. Scientists and industry agree that whoever has access to a quantum computer will possibly make huge steps in various fields of research, from drug finding to new chemical materials (including being able to suck CO2 from the air) to different types of modelling, climate being one example.

Although very concrete and useful applications are still limited, a fierce race has now been launched to master this technology. Between nations – mainly the US, Europe and China. But also between private companies, predominantly from the US (IBM or Google) and China (Tencent or Alibaba) among others.

Last week, at a conference organised by Science|Business, experts underlined that "the world needs an international expert body to advise governments on the safe and ethical development of quantum technologies, mirroring efforts to create global oversight of artificial intelligence". But, "the geopolitical dividing lines over quantum are already being drawn, with questions over whom states and national funders should work with, and at what level of technological readiness", writes the pure-player media.

An additional issue which is often omitted is broad accessibility to the utilisation of this very expensive technology. How can the international community ensure that quantum technology opportunities are open to everyone, not only to private companies or rich nations who have big means to develop this tool? How does one make the applications of quantum beneficial to everyone on Earth? How do we collectively educate the future generations to best harness this potential? It is key that these questions, at the heart of GESDA's activities in the field, be addressed, so that quantum technologies become widely accepted and not only seen as an additional reason why inequalities further increase on the planet.

- Olivier Dessibourg, GESDA
This selection is proposed by the Geneva Science and Diplomacy Anticipator GESDA, working on anticipating cutting-edge science and technological advances to develop innovative and inclusive solutions for the benefit of the planet and its inhabitants.
GS news is a new media project covering the world of international cooperation and development. Don't hesitate to forward our newsletter!
Have a good day!

Avenue du Bouchet 2
1209 Genève
Suisse