Hello, it's Kasmira, and today in Geneva officials are breathing a collective sigh of relief after Joe Biden pledged yesterday to "engage with the world once again" - including the World Health Organization - as he became the 46th president of the United States.
We're also curious about a new health tech hub launched here in Geneva that aims to tackle the effects of Covid-19 on tuberculosis. Plus, a look at what's happening at the WHO's annual top-level meeting, which kicked off this week.

Underprivileged children attend an outdoors class at the Sangharsh Vidya Kendra school, at a slum area on the outskirts of Jammu, India, 18 November 2020, on World Children's Day (issued 20 November 2020). World Children's Day,(Credit: Keystone/EPA/Jaipal Singh)
Fewer children died in 2020, despite the pandemic. That's according to preliminary findings from the Human Mortality Database, a research project run by a global team of demographers. The data suggests that Covid-19 did not reverse years-long declines in child mortality, despite a mortality surge in the general population. Researchers are now trying to understand the reasons behind this.
Time (EN)
President Joe Biden hugs first lady Jill Biden as they prepare to walk into the White House, Wednesday, Jan. 20, 2021, in Washington, after being sworn in as the 46th president of the United States. (AP Photo/Evan Vucci)
Biden calls for unity amid "a winter of peril". As the US' newly elected President Joe Biden took oath of office on Wednesday, he vowed to quickly take action against the pandemic and in tackling economic collapse, warning of the nation's "winter of peril". He used his speech to call for unity in facing the challenges ahead and in moving past its current "uncivil war".
BBC (EN)
---
Anticipatory reads by GESDA
---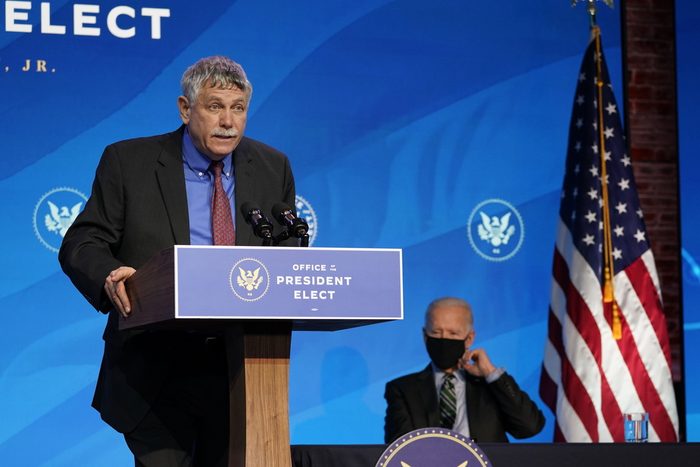 Joe Biden with his nominated science adviser, Eric Lander. Photo: Keystone
A geneticist will advise the new US president, more directly than ever. Joe Biden has announced on Friday 15 January that Eric Lander, founding director of the Broad Institute of MIT and Harvard, will serve as director of the Office of Science and Technology Policy (OSTP). Biden also chose this key figure of the Human Genome Project (in 2003) as Presidential Science Adviser, which he intends to elevate to be a member of his Cabinet - a first in American history. "Science will always be at the forefront of my administration – and these world-renowned scientists will ensure everything we do is grounded in science, facts and the truth," Mr. Biden said in a statement, also naming two women, Maria Zuber (Broad Institute Vice president for Research) and Frances Arnold (Caltech, 2018 Nobel Prize winner in chemistry) as co-chairs of the President's Council of Advisors on Science and Technology.

The New York Times goes on quoting the new US president saying that "the trusted guidance of these scientists will be essential as we come together to end this pandemic, bring our economy back and pursue new breakthroughs to improve the quality of life of all Americans". And certainly of all non-Americans too, as the United States, despite the rise of other nations in science, have never totally lost their leadership. Science is strongly back at the White House, for the benefit of all.

- Olivier Dessibourg
This selection is proposed by the Geneva Science and Diplomacy Anticipator GESDA, working on anticipating cutting-edge science and technological advances to develop innovative and inclusive solutions for the benefit of the planet and its inhabitants.
GS news is a new media project covering the world of international cooperation and development. Don't hesitate to forward our newsletter!
Have a good day!

Avenue du Bouchet 2
1209 Genève
Suisse