Good morning, Pokuaa here, and today in the world of global health, the resurgence of Ebola in West and Central Africa is a call for concern, bringing back nightmarish memories of the 2013-2016 outbreak.
In other news, UNAIDs chief speaks out against wealth disparities as Covid-19 sheds light on the consequences of inequalities in health research and systems.
A Liberian man reads a newspaper reporting on the Ebola outbreak in neighbouring Guinea at a sidewalk newsstand in Monrovia, Liberia, 16 February 2021 (Source: Keystone)
🇬🇳 Deadly Ebola resurgence in Guinea. Alarm bells ring as the reappearance of the Ebola virus in Guinea threatens to tear through the country once again. This is the first time the country has reported cases since the West African Ebola outbreak in 2013-2016 which cost over 11,300 lives.
Geneva Solutions (EN)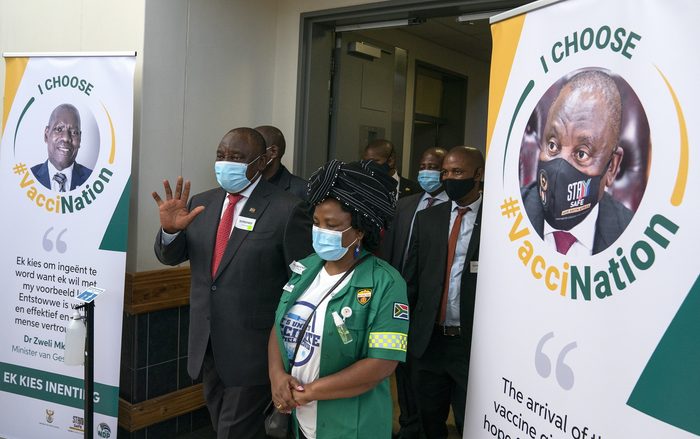 South Africa starts their vaccine campaign. 17 February 2021. (Source: KEe
Vaccinations finally on the way in South Africa. On Wednesday, South Africa began administering its first coronavirus vaccines. Following their rejection of the Oxford-Astrazeneca doses, the country has opted for the Johnson & Johnson shots, with health care workers and top politicians being amongst the first to be inoculated.
Bloomberg (EN)
Covid-19 cases dropping. The number of new Covid cases reported worldwide fell 16 per cent last week to 2.7 million, the World Health Organization said on Tuesday in its weekly epidemiological update. It was also reported that new deaths also fell 10 per cent.
WHO (EN)
GS news is a new media project covering the world of international cooperation and development. Don't hesitate to forward our newsletter!
Have a good day!

Avenue du Bouchet 2
1209 Genève
Suisse