Good morning, this is Elaine. I am the editor of Geneva Solutions' Global Health section, produced in collaboration with Health Policy Watch, a Geneva-based news service. I will also be live next week on Thursday 31 August to discuss health coverage with our editorial director Serge Michel as part of a webcast series for our launch.
Today's features zoom into the risks of coronavirus reinfection; the brouhaha over the US FDA's approval of an unproven Covid treatment with convalescent plasma; Moderna's Swiss Connection - how prudent but savvy Swiss bankers funded the biotech firm's early years. And from the field, we have the inside story of a front-line doctor in Uganda, whose team faces the SARS-CoV-2 virus naked.

Not accidentally, a disproportionate array of health news lately is on Covid-19, the biggest pandemic to hit humankind since the Spanish flu of 1918.
At the same time, these stories are not really about just one virus. Think of it as a lens through which we see problems that plagued us long before this tiny strand of RNA began disrupting our lives - and could threaten us even after we find a vaccine. These include underfunded health systems and the lack of equitable access to medicines and health care. Add to that the broader inequalities in income and social status which also fuel disease risks for everyone.
As WHO's director general Dr Tedros Adhanom Ghebreyesus has repeatedly stated: in a globalized world, we are only as strong as our weakest link. In addition, the unbridled pace of climate change and environmental degradation continue to bring more and more people into contact with the insect and animal vectors of new and potentially dangerous pathogens. So even if a new vaccine appears, sometime late this year or in early 2021, to beat Covid-19, we are likely to face other similar risks very soon if we don't upgrade our healthcare systems and work towards more sustainable patterns of development and consumption.
At the same time, the pandemic has also created new opportunities to address these issues more systematically - as politicians come to appreciate the huge risks of inaction. As we develop our coverage in the Geneva Solutions Health Stream - we will tease out those interlinkages - and also the solutions that can lead to "win-wins" for health, climate, society and the economy. We will also be keen to have your inputs - please join the conversation!
Health workers on the Covid-19 firing line - notes from an Ugandan emergency room doctor. But six months into the pandemic, many hospitals remain unprepared. Doctors and nurses lack adequate personal protective gear (PPE) and there is a shortage of isolation wards to separate suspected Covid-19 cases from regular patients. Call it a desperate story - but it is also one of hope and courage. Everywhere in the world, health workers know what they need to protect themselves, their families and communities from the pandemic. What they need are simple, and largely affordable, tools - and they are demanding them.
Health Policy Watch (EN)
«I have the right not to testify against myself» Nobel Prize-winning author and Belarusian opposition activist Svetlana Alexievich refused to answer questions Wednesday after Belarusian investigators summoned her for questioning over allegations of criminal activities committed by a newly formed opposition group with which she is associated.
Voice of America (EN)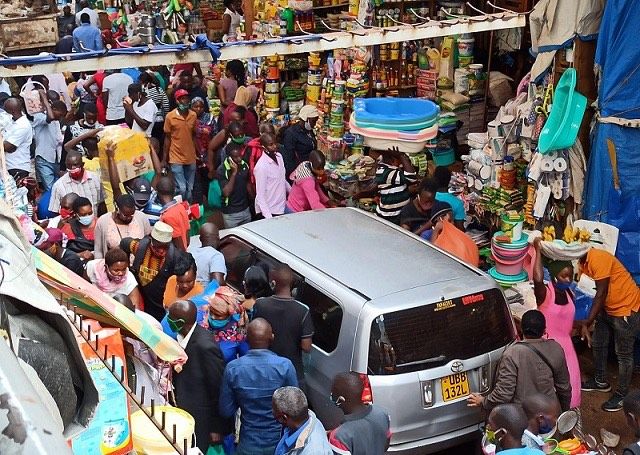 Crowded market scene in Kampala, Uganda – some people wear masks and others do not. Samson Wamani.
Social distancing is one of the key preventative measures that has been "prescribed" by WHO. But it's a huge challenge in many places, such as this crowded market in Kampala, Uganda. Lax enforcement of basic preventive measures is yet another, in this case masks - which some vendors and shoppers don - and others discard. Source: Samson Wamani.
GS news is a new media project covering the world of international cooperation and development. Don't hesitate to forward our newsletter!
Have a good day!

Chemin de La Mousse 46
1225 Chêne-Bourg
Suisse