Hello, this is Pip, and today we're weighing up the prospect of progress as talks on Cyprus' future reconvene in Geneva after a nearly four-year hiatus. We're also covering calls for the UN to act urgently to protect women and girls in Ethiopia's Tigray region, and hearing an account of another needless tragedy off the coast of Libya, told from aboard the Ocean Viking rescue vessel.
---
Peace and humanitarian news
---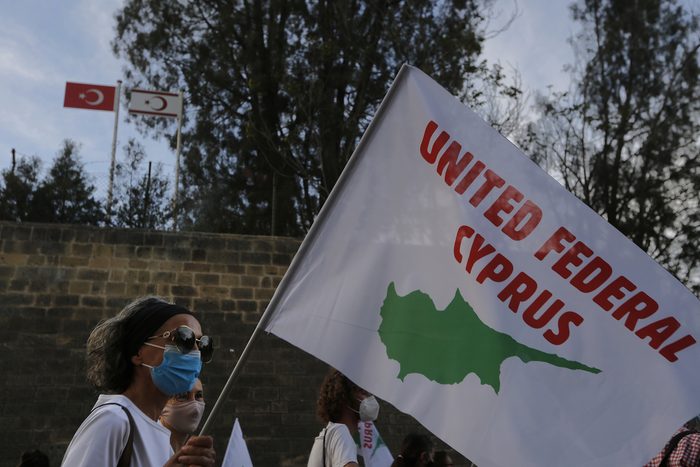 A Greek Cyrpiot protester takes part in a march for peace in divided capital Nicosia, Cyprus, April 24. (AP Photo / Petros Karadjias)
🤝UN talks seek 'common ground' for Cyprus future. Talks between Cyprus' opposing factions in the north and south are scheduled to begin in Geneva this morning to "determine whether common ground exists" on the island's future nearly four years after previous peace negotiations collapsed. The division of Cyprus has stoked tensions between Turkey and Greece ever since the split over four decades ago. However, with neither side seeming willing to compromise, the talks could be doomed before they begin.
Geneva Solutions (EN)
🚢 A needless tragedy off the coast of Libya. Last week, a boat carrying 130 migrants sank near Libya. The dinghy had capsized by the time the rescue ship Ocean Viking, operated by aid organisation SOS Mediterranee, reached the area. The shipwreck has sparked outrage, with rescue groups accusing Libyan authorities of refusing to answer the boat's distress calls. One crew member recounts the tragedy as it happened.
The Guardian (EN)
🚨Tigray can't wait. A joint statement to the UN Security Council last week called for immediate action to end the violence in Tigray in Ethiopia following horrific reports of sexual abuse and rape of women and girls since the start of the conflict in the region nearly six months ago.
PassBlue (EN)
A clean-up operation veteran visits a memorial in Kiev, Ukraine, April 26. (AP Photo / Efram Lukatsky)
Ukraine seeks world heritage status for Chernobyl 35 years on. The country announced it wants to apply to have the nuclear plant and surrounding areas listed as a UNESCO World Heritage site yesterday, on the 35th anniversary of the disaster. 31 plant workers and firefighters died in the immediate aftermath of the 1986 disaster, mostly from acute radiation sickness. The Ukranian culture minister said Chernobyl's inclusion on the list would be "a first and important step towards having this great place as a unique destination of interest for the whole of mankind."
Le Temps (FR)
(Image credit: US Air Force / Senior Airman Roslyn Ward, via AP)
📍11 May | Transforming the global response for missing persons. For the 150th anniversary of the Central Tracing Agency, one of the oldest institutions whose existence is enshrined in the Geneva Conventions, this event will explore ways to prevent and respond to missing persons and their families in situations of armed conflict, migration, disasters and emergencies.
ICRC (EN)
---
Deep dive into International Geneva
---
GS news is a new media project covering the world of international cooperation and development. Don't hesitate to forward our newsletter!
Have a good day!

Avenue du Bouchet 2
1209 Genève
Suisse