Hello, this is Pip, and today we're hearing how NGOs are being prosecuted for acts of solidarity with refugees and asylum seekers, and speaking to writer, activist and former Manus Island detainee Behrouz Boochani about what lessons Europe can learn from Australia's hostile asylum policy.
We're also getting the lowdown from the Human Rights Council after the 46th session wrapped up last week. Meanwhile, UN officials are negotiating with China for unfettered access to the Xinjiang region to verify reports that Muslim Uighurs are being persecuted there.
---
Peace and humanitarian news
---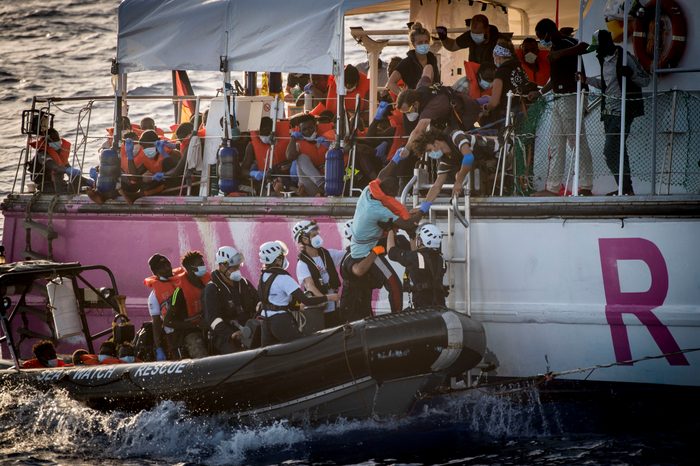 (Credit: Médecins Sans Frontières)
🤝 How saving lives at Europe's borders became a crime. As countries across Europe adopt increasingly tough migration policies, NGOs are being prosecuted for acts of solidarity towards refugees, asylum seekers and migrants. We speak to Stephen Cornish, director general of Médecins Sans Frontières (MSF) Switzerland, and Behrouz Boochani, a Kurdish Iranian journalist and author who was imprisoned in Australia's offshore asylum system for six years, about the threat this growing hostility poses to Europe's democracies.
Geneva Solutions (EN)
🇨🇳 UN negotiating with China for unfettered access to Xinjiang. Secretary general António Guterres has said the UN is holding "serious negotiations" with China on gaining access to the region to verify reports that Muslim Uighurs are being persecuted there. His words came soon after the EU, UK, US and Canada all imposed sanctions on Chinese officials over rights abuses.
Reuters (EN)
An anti-coup protester uses a slingshot to confront police on Sunday in Yangon, Myanmar. (Credit: Keystone / AP)
UN denounces 'shameful, cowardly, brutal actions' in Myanmar. Top UN officials have condemned the Myanmar military's attacks on peaceful protesters on Saturday during which at least 107 people were killed, including seven children. Hundreds more were detained and wounded in seemingly coordinated attacks across 40 locations on what was the bloodiest day since the coup began.
UN News (EN)
(Image credit: EPA / Clemens Bilan)
The fifth Brussels conference supporting Syria and the surrounding region began on Monday, with officials saying needs are greater and more diverse than ever before. According to the UN, more than $10bn is needed to support people in need both inside Syria and in the wider region, but there are fears that donations will fall short.
Devex (EN)
📌 31 March | Eliminating child labour in Africa. Africa has both the largest number of child labourers and the highest proportion of children in child labour among the major world regions. This launch event kicks off the International Year for the Elimination of Child Labour in Africa in 2021.
ILO (EN)
---
We're launching a new newsletter!
---
GS news is a new media project covering the world of international cooperation and development. Don't hesitate to forward our newsletter!
Have a good day!

Avenue du Bouchet 2
1209 Genève
Suisse